TAKE CONTROL OF ACCESS TO YOUR FACILITY
JAM Corporation offers a wide range of access control systems featuring powerful, cost-effective and scalable systems that are ideal for applications ranging from small systems to large complex installations. Our access control systems are some of the most advanced yet easy-to-use in the industry.
Access control systems give you the capability of controlling who can go where and when. By providing precise control of your business, you can be assured that those leaving your organization can be removed with just a few clicks. This reduces risk and keeps your employees safe and secure. Get even more from your system by implementing individual secure badge validation at entrances and exits.
Implementation and integration of an access control solution requires a team with specialized training and knowledge. JAM Corporation offers a depth of expertise, technical knowledge and project management to help reduce risk and ensure value for your business.
JAM Corporation provides a single-source solution by delivering cost-effective access management solutions to customers in a diverse group of industries. From small office buildings to large industrial facilities, JAM Corporation has the products to meet the needs of business and industry.
Basic Types of Access Control Systems:
Card Reader Entry
Biometric Access Control devices
Keypad Entry
Electrical Door Locks
Access Cards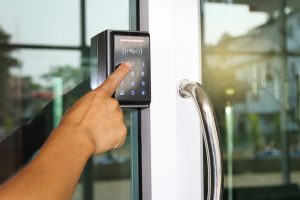 Products and Manufacturers: