GET THE RIGHT MESSAGE TO THE RIGHT PEOPLE AT THE RIGHT TIME
Most companies, organizations, buildings, cities and regions have a variety of devices and systems installed to help keep people safe and informed during an emergency. However, most of those systems are standalone with no connectivity or communication protocols between them. When all devices and systems are tied together a unified message can be broadcast to all people via different channels, and in different formats, so they are received and acted upon in the shortest amount of time. JAM Corporation leverages all available notification assets to get the emergency message out to the affected groups as soon as possible.
Modern mass notification systems make use of intelligible voice communications, text, personal computers, voice over internet, desktop displays, mobile devices, cable TV override, visual signaling, digital signage and other security alert services to provide ongoing information on current threats and recommended responses.
JAM Corporation employs some of the most scalable and feature-rich notification solutions on the market. We have a variety of mass notification systems and technologies to bring you the best interoperability with other components and existing technologies such as:
Fire Alarm Control Panels
Desktop Computers
Digital Signage
VoIP Phones
IP Speakers
PA System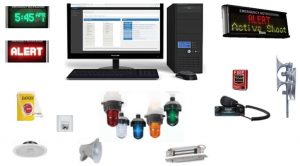 Products and Manufacturers: